3rd Annual May Muddy Madness 2016
over 3 years ago
Westover Elementary PTO 3rd annual May Muddy Madness was held Saturday, May, 14, 2016, at the school. Everyone had a great time playing in the mud, visiting with friends, and eating a burger, hotdog or snow cone.
May Muddy Madness is a fun filled muddy day at Westover Elementary School. The muddy obstacle course with large mud pits is always a favorite of the kids. Other fun events for the day include pie in the face and a dunking booth. What better way to say thank you after a fun year than to dunk your favorite teacher or principal in the dunking booth! This year we also added muddy dodge ball and it was a hit! Fire Station 11 from Luray was on hand to hose off all the muddy folks and enjoy the festivities.
On behalf of Westover PTO, we would like to thank the following sponsors: All-Around Laser Imaging, Anderson Sporting Goods, Beech Lake Marine, Deco Fireworks, Land Development Group, Save A Lot, and Zaxbys. We are so thankful to have such great businesses in our community willing to support our school.
Westover PTO would also like to thank all of our parent and teacher volunteers for their help. Our muddy fun day wouldn't be the success it is without their help.
THANK YOU!!!!!!
Westover Elementary PTO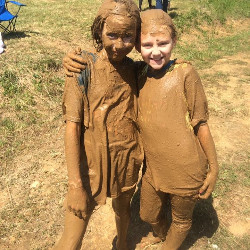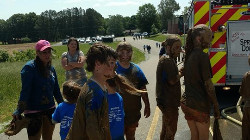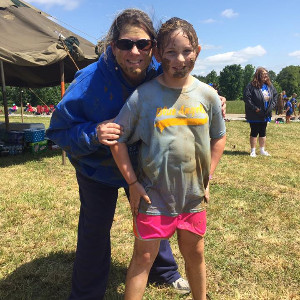 Bear News for September, 2015
over 2 years ago
Car Riders
Most of you have received a name tag for your vehicle if you pick up your child by car. Please contact the school if you did not receive one. Preferably a note sent to teachers listing all of your children on one note. Thank you for your cooperation and patience that you have shown during our car pick-up. Our main concern is for our students. Everyone is working together to make our car pick-up work more efficiently.

8th Grade Class Rings
Balfour will be at the school on Sept 9 to take deposits and size students rings. The deposit is $40.00. Please make checks and money orders payable to Balfour.

Dismissal Information
Students are designated as a bus/car rider in order for that student to be dismissed at different bells. Students going home a different way or with another student must provide a note with parent permission from both sets of parents. PLEASE AVOID PHONE CALLS TO THE OFFICE CONCERNING DISMISSAL UNLESS IT IS AN EMERGENCY. Please make your child aware of any different arrangements before they come to school and send a written note to the teacher.

New Attendance Policy
School attendance and promptness to classes are important to the Henderson County School System. Time on task is essential if students are to succeed in their educational efforts. The right to attend public school places the responsibility on pupils and their parents to strive for perfect attendance. Tardiness, absences, check-outs and suspensions are all problems that require action by the school officials because each of these results in a loss of time on task.

Absences shall be classified as either excused or unexcused as determined by the principal or his/her designee. After 5 days is unexcused absences or tardies, the parent will be contacted by the principal or his/her designee. When the student accumulates 7 unexcused days or tardies, the student and parents/guardians will be summoned to appear before the Truancy Committee. Parental Permission absence shall be recorded as UNEXCUSED. Full details are in the agenda and handbook.

Health Screenings
Coordinated School Health Screenings will be conducted on Sept. 9 for all even grades. Please be sure to wear your glasses if you have them.

Parent-Teacher Conference
Parent-Teacher Conferences are schedules for Thursday, Sept 17 from 1 pm to 7 pm. Teacher will be in staff development meetings that morning and will be unable to begin conferences until 1:00. We hope to see you there.

Study Tip
Kids are more successful in school when parents take an active interest in their homework - it shows kids that what they do is important. One tip when helping with homework is to make sure kids do their own work. They won't learn if they don't think for themselves and make their own mistakes. Parent can make suggestions and help with directions, but it is a kids job to do the learning.

Henderson County Gets Ready To Countdown to Kindergarten
over 3 years ago
Henderson County and Paul G. Caywood School educators and other area officials will join forces on

Thursday, March 31

, at the Everett Horn Public Library in Lexington from

6 PM until 8 PM

– registration begins at

5:30 PM

-- to Countdown to Kindergarten. Parents who have a youngster going to Kindergarten for the first time this coming fall are encouraged to attend this free workshop. Those attending will get expert advice, learn helpful hints, and hear insider secrets that can make going to Kindergarten exciting and fun for both children and parents. The first 50 kids will receive a free "I'm Going to Kindergarten" t-shirt. Countdown to Kindergarten is sponsored by WLJT-DT, Everett Horn Public Library, The Library Friends, The Henderson County School System and Paul G. Caywood School. Call 731-968-3239 or 731-881-7561 during regular business hours with any questions.
By Tina Grant
May News
over 3 years ago
Lost and Found
Lost and Found is overflowing. Be sure and check for articles that your child might have missing. These items will be donated to charities this summer.
MAY MUDDY MADNESS
Westover Elementary School
Saturday, May 14
10:00 am - 2:00 pm
Drop offs will not be allowed at the event. Parents must e present with their children. All proceeds will benefit the Westover Elementary School PTO.
* Please see the May Muddy Madness flyer that was sent home for additional information regarding activities at the event and costs.
Westover Spring Band Concert
The Westover Band will have a concert on Thursday, May 5 at 6:30. Please come and support the talented band students.
Report Cards
All school debts must be paid before report cards can be released. Please verify that your child has no textbooks, library books, or cafeteria debts. If no money is owed to the school, the report card may be mailed to you if a stamped addresses envelope has been supplied to the teacher before this date.
Finals
No child may be checked out of school before 10:30 a.m. on testing days to ensure they have time to do their best on the final exams.

May 17 &18 Finals for Grades 3-7
May 13 & 16 Finals for 8th Grade
Graduation
Tuesday, May 17
5:30 p.m. Kindergarten Graduation
7:00 p.m. 8th Grade Graduation
Awards Day
Monday May 16
8:00-9:00 Grades 3-5
9:30-11:00 Grades 6,7

12:15-1:45 Grades 1, 2
May Day
Thursday, May 5 Grades K-4
Friday, May 6 Grades 5-8
*Please have your child bring sunscreen, hats, change of clothes, towels, ice cream money, etc. for this fun filled day.

Parent Night Scheduled for Aug. 11
over 2 years ago
Westover Bears Parent Awareness Night is August 11, 2015
Grades K-3 Presentations 5:30-6:15
Grades 4-8 Presentations 6:30-7:15
PTO meeting will follow presentations.

As an alternative to Meet and Greet, Westover invites you to join us for Parent Awareness. Presentations will contain helpful study tips as well as information about school policies, procedures, and expectations. Teachers will provide helpful study tips that can be implemented at home. This night will contain strategies to involve parents in helping their children do well in school. If unable to attend please schedule a conference at the upcoming Parent/Teacher Conference.

Past Events
over 3 years ago
PTO Family movie night

Friday, August 19 at 8:00 p.m.

Please make plans to attend this fun event. For only a $4 donation, you will receive popcorn and a drink to enjoy during the movie. You can pre-register by August 11th. We can't wait to see you there!

Pictures of Westover Events
Smart Card Fundraiser
over 3 years ago
We need your help!

Please support your child & help your family save money too! Get INVOLVED!! Buy a Smart Savings Card with more coupons and Virtual Smart Card. Every purchase comes with 28 more coupons and a free download of our virtual Smart Card! Lexington savings! Zaxby's, Goodwill, Dairy Queen, Subway and a several more places!!The Smart Cards are $15 dollars.

By Tina Grant
Westover School News
over 3 years ago
We would like to welcome back our Students, Staff and Faculty. We are looking forward to a great 2015-16 school year. We would like to welcome our new staff and faculty: Michelle Roberts, Paraprofessional Pre-K, Kaitlin Thompson, Sped, Kim Tilley, Sped and Jodi Duncan, 8th Science/Social Studies, Robert Eskew, Band Director, Kelly McAdams, Resource, Kassie Overman, 2nd grade, Amber Tulley, 2nd Grade and Elizabeth Vineyard, CDC Teacher. We also have some new additions to our custodial staff, Redonna Phillips, and also to our Cafeteria staff: Terrie Walton, Ivy Jamiesom and Melody Vandergriff. We are happy to welcome you to the Westover Family.

By Tina Grant