Destiny Widget for Westover
TASL 2018-2019 Bookmark Winners
9 months ago
2019 February TASL Bookmark Contest
Everyone Belongs @ Your School Library
These will be sent to the TASL (Tennessee Association of School Librarians) state contest.

6th-8th Brylie Ruga, Brianna Buckley, Shaelynn Benson

3rd-5th Nicholas Powers, Eliana Wright, Sierra
Taylor

1st-2nd Maci Fowler, Paisley Yates, Gauge Hall

Research/Resources/Reference

Genre/Types of Text

Fiction/Nonfiction, Call Numbers, Dewey

Library/Book Care

Kindergarten
Dr. Seuss/Read Across America March 2019
9 months ago
Captain Donna Hetherington

Captain Donna Hetherington, from the Lexington Police Department, read The Cat in the Hat to Mrs. Overman's class. They enjoyed talking with her! Thanks to her for taking time out of her day to come!

First Grade Teachers

What a team of teachers!

Mrs. Tina Frizzell, Mrs. Andrea Wilkinson, Mrs. Kassie Overman, and Miss Amber Vineyard!

The Lorax

Our fourth grade student teacher, Miss Rachel Roberts really dressed the part as the Lorax and also read the book to the fourth graders! Good luck to her in her next student teaching position and her teaching position in the fall!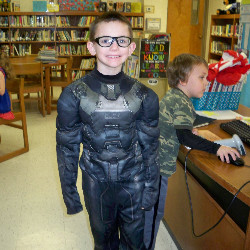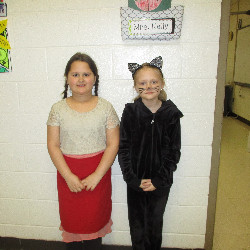 Helping The Frances Hensley Animal Shelter in Lexington
about 1 year ago
Mrs. Monica Rayas and her daughters, who volunteer at the Frances Hensley Animal Shelter in Lexington, brought Edward, the dog, and, Flannel, the cat, to visit the homerooms who made donations to the shelter. They went to the following homerooms: Mrs. Debbie, Mrs. Wilkinson, Mrs. Douglas, Mrs. Hayes, Mrs. Duncan, Mrs. Britt, Mrs. Pearson, and Mrs. Creech.
Mrs. Jamie Creech's sixth graders did a project to help the shelter and have a box in the library for donations that we are still collecting, so please continue to send them!

R.E.A.D.S., Overdrive, Libby
11 months ago
Mrs. Crystal Ozier is showing our seventh graders how to use the R.E.A.D.S. program, using Overdrive and/or Libby. It is the eBook and Audio Book Download System administered by the Tennessee State Library and Archives. All you need is an internet connections and a library card/number. See Mrs. Jackson for more information.